It was a full house. Parents, students, teachers, and tutors had prepared a day to celebrate students in the summer art class.
The students attended classes once a week for six weeks and learned about famous artists such as Michelangelo, Leonardo da Vinci, Vincent van Gogh, Rembrandt, and Claude Monet. Then the students sat at their own canvases to practice painting some of the famous pieces they had learned about.
The awards began.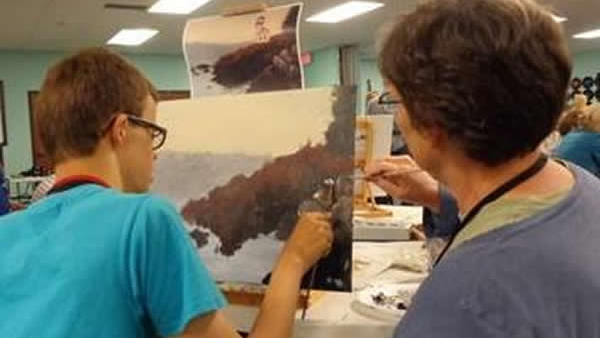 Each student was called to the front to receive his or her reward:
Suzy was recognized for her consistent effort
Scotty for his diligence
Jim for his encouragement
Lauren for her courage in trying new styles
Jane for being the most joyful artist, whose smile and presence always lit up the room
We applauded with delight all of the students.
Oh, I forgot to mention, all of the students had disabilities—paralysis, extreme shaking, intellectual and social deficits, braced limbs, stiff muscles . . . you name it.
The Helper's Touch
As a result, each student had a helper who held the student's shaking hands or braced arms, calmed his or her anxiety, and cared for his or her mental instability. With the helper's touch, guiding a student's brush and paint, beauty filled the room.
Real artistry comes from the soul. With support and unconditional care, what was otherwise impossible became possible for these students.
Such is the work of the Holy Spirit.
Holy Spirit: Our Helper
The Spirit guides and empowers each of us to do what would otherwise be impossible. First Corinthians 12:7 says, "A spiritual gift is given to each of us so we can help each other" (NLT, emphasis added). First Corinthians 12:22–26 continues:
In fact, some parts of the body that seem weakest and least important are actually the most necessary. And the parts we regard as less honorable are those we clothe with the greatest care. So we carefully protect those parts that should not be seen, while the more honorable parts do not require this special care. So God has put the body together such that extra honor and care are given to those parts that have less dignity. This makes for harmony among the members, so that all the members care for each other. If one part suffers, all the parts suffer with it, and if one part is honored, all the parts are glad. (NLT, emphasis added)
You may be experiencing circumstances that appear impossible to endure. Without calling on the Holy Spirit, you will not make it. When in doubt, remember the art class filled with those considered less honorable yet who received the greatest care. Ephesians 2:10 explains that you are God's masterpiece. In your weakness, the Holy Spirit will provide strength (Romans 8:26).
This was my son's second year in the art class. One of his pieces hangs in the hallway of the church next to the works of other students. Seeing those pictures reminds me that anything is possible when the Holy Spirit empowers our work.
Let Me Hear from You
In our comments section, I would love to hear your thoughts about these questions:
What area of your life has made it seem impossible to move forward?
Have you fully depended on the Holy Spirit to help you through?
You can leave a comment by clicking here.