"No pain, no gain—get over it!" That's what I thought until . . . I came out of my mother's womb running, climbing, trying to fly. I could have been the poster child for ADHD. Having ADHD had its upside.
From the age of 19 to 22, I was busy:
I spent three priceless years running with my dad every morning.
I finished college with a major and double minor the same year my first child was born.
I ran several half and full marathons.
I even kept up on a treadmill when the kids were young—and one had disabilities.
Exercise helped me deal with negative ADHD effects, such as episodic depression, while focused strength training helped with the demanding physical duties of caregiving no one else was aware of.
Then, in 2007 I became a single parent and went to work full time outside the home.
Running on Empty
Exercise fell off my to-do list. I remarried (a bodybuilder no less) in 2009 and added two more kids to the mix. The matrix of home and parenting became exciting but exhausting. After I had two serious neck and back injuries, a diagnosis of Chronic Fatigue or Epstein Barr (we still don't know which), and arthritis, the only things on my treadmill were layers of dust coating unfolded laundry.
In 2014, my daughter's engagement to be married became my motivation to reignite my past health regimen. "No pain, no gain"—that motto had always worked, and there was enough energy—until the day I literally couldn't walk or get out of bed.
The doctor who saw me that afternoon ordered so many tests, the paperwork looked like a restaurant menu.
The results were shocking at best: I had no lumbar disks, and instead, three vertebra bones sat on each other, pinching nerves that went down my legs, sciatica, and more. Massive, immediate surgery was required, and the healing process would take up to two years.
When Life Stops You in Your Tracks
I was stopped in my tracks. No warning. No clue.
The point is we all are clueless—we are not sovereign, and we do not have full control over what happens in our lives. We often believe we have control; if we plan well and "pay it forward" every so often, life should work out fairly well, right? Think again. God's Word reminds us:
We can make our plans, but the LORD determines our steps. —Proverbs 16:9
Many have come to believe that as Christians we have a right to comfort—God should go along and get along just because we show a little kindness or take some extra vitamins—and then we're stunned when He doesn't seem to heal or help. Actually, our loving God uses some of our greatest pains to help us to depend on Him, to lead us into a relationship with Him instead of instantly providing the relief we long for.
Paul said it well:
Three different times I begged the Lord to take it [the thorn in his flesh that tormented him] away. Each time he said, 'My grace is all you need. My power works best in weakness.' So now I am glad to boast about my weaknesses, so that the power of Christ can work through me. —2 Corinthians 12:8–9
Thankful for Pain—Really?
I don't know what matters most to you. Following my wake-up call several months ago, I'm still examining what matters most to me and making changes.
Truth be told, physical pain every day, huge scars on my stomach and my back, metal disks attached to my vertebral column with metal bars and screws packed with sawed-off, blended bone from my hips—all remind me to examine many things I never thought about before.
For this pain, I am so thankful.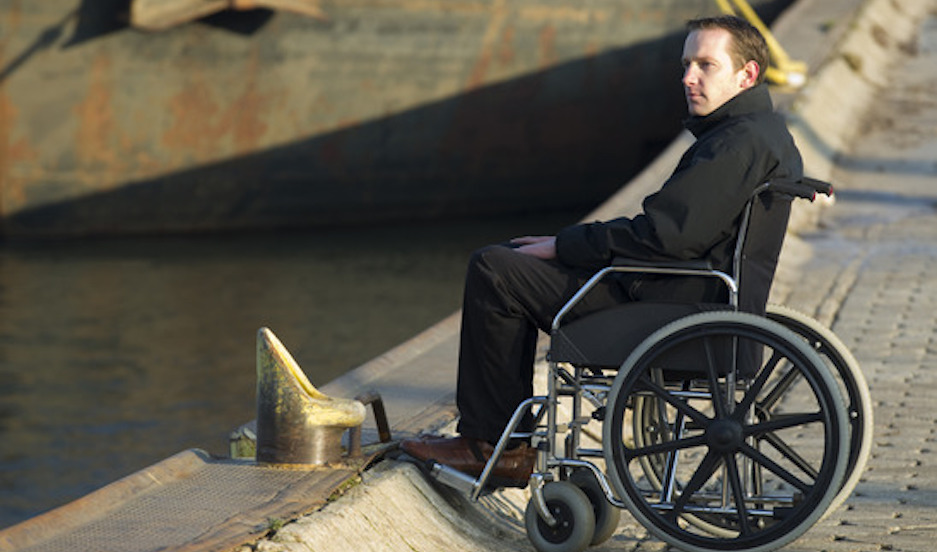 Jesus can use our physical infirmities to help us discover what is broken in us. He is our Great Physician who knows us intimately and loves us extravagantly—so much so that He will stop us in our tracks and call our attention to Himself.
Humanly, we often believe God is unfair, unaware, unkind, and unwilling to help, when actually He wants to work in us through our weakness.
3 Lingering Questions
I leave you with three hard questions . . .
What part of your life have you refused to fully embrace, and why? Perhaps it's an unexpected failed marriage, a disabled parent or child, betrayal, or an infirmity.
Are you willing to believe that God has allowed your circumstance because He loves you and is calling you to a deeper relationship with Him?
Are you willing to give up what you want and accept what He has allowed? Why, or why not?
Pick one or two, and let's get the conversation going.
You can leave a comment by clicking here.