It was a misty morning in a small, out-of-the-way English countryside village.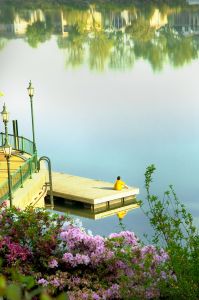 Hanging flower baskets, timeworn cafes, and antiquated shops lined the cobblestone streets. The town was packed with old bookstores in which dusty, leather-bound or linen-wrapped books were piled from floor to ceiling. Some of the books' bindings had been repaired with old tape. Some books were secured by twine or fastened with rusty old locks.
I felt smarter surrounded by these ancient tomes.
As I sat on narrow stools and cement floors in these shops, I found works written by Luther, Spurgeon, Thomas Aquinas, St. Teresa of Avila, and St. John of the Cross. I cherished the simple way in which these great theologians wrote about doctrine and spiritual discipline.
One of my favorite places on earth, I spent a few days in that old town, and it became a sanctuary that I will always treasure and that I can always return to in my memory.
In your busy world, do you have any sanctuaries—places where your soul can meditate on and rest in the simple truths of God's Word?
Here's why you need one.
Do You Have a Sanctuary?
One evening not long ago, I needed a sanctuary. The responsibilities of parenting and caring for a special needs child, marriage, work, writing, and dealing with some internal soul-struggles had left me tired. I needed God's simple, faithful, loving care.
Maybe you are feeling exhausted, angry, fearful, and tearful. I understand. Remember that you can meet with Jesus anywhere. His truth never changes. And like me remembering the joy of reading those old, tattered books in that old, English bookshop, you may sit for a while and create a sanctuary of remembrance of your own.
Lord, Remember Me
Here is what I said on that evening not long ago: "Lord, remember me."
Wherever you are, repeat these words and remember God's tender care.
If you have fallen ill . . . "Lord, remember me."
If you are filled with grief . . . "Lord, remember me."
If depression has overtaken your soul . . . "Lord, remember me."
If you have lost your way and are searching for hope . . . "Lord, remember me."
Those three simple words will give you comfort and peace. Yes, the Lord remembers you. Call to Him . . . "Lord, remember me."
Let Me Hear from You
Do you have a sanctuary where you can go to meditate on the Lord? Whether it's a real, imagined, or remembered place, feel free to tell us about it.
You can leave a comment by clicking here.