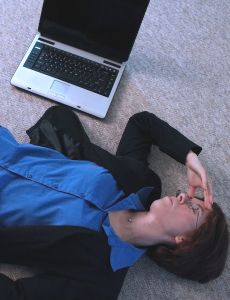 Ever felt drained by the day and it's only dawn? My family and I had one of those days not long ago. It was still dark outside . . . my daughter had pneumonia, my son had bronchitis, and both needed medicine. The new container of almond milk slipped and spilled ALL OVER the kitchen counter, the salt grinder broke and dumped salt over the eggs, my son's tics were escalated, and in trying to make a mad dash to the store, my car had a flat tire. And all this happened before sunrise!
Your challenges may be very different . . . bill collectors, basement leaks, disaster damage, disabilities, depression, a critical boss, countless court battles. Some days can be packed with demanding pressures . . . all before dawn.
Remember
There is nothing easy about sudden or incessant irritations. But there are two significant points to remember in the midst of them.
We always have choices . . . many choices, in fact. We are not captive to life's whims unless we choose to be. We make many choices every day: whether or not to have a good attitude, whether or not to temper our responses, whether or not to control our feelings. We can blame or resent, or we can accept and wisely respond. We can jump to conclusions or put things in their proper perspectives. We can choose to escape or to endure. We have many choices.
We always have Christ who promises to help us through what life throws our way. Truth be told, the flat tire or critical boss or spilled milk are tangible, material problems; however, another even deeper problem resides in the condition of the heart. Our human hearts are broken and in need of constant repair and refinement . . . life's problems are meant to awaken us to our need for God's work to be done.
Helpful Passages of Scripture
When your day appears doomed just after dawn, meditate on these passages for help and hope.
"For I know the plans I have for you", declares the LORD, "plans to prosper you and not to harm you, plans to give you hope and a future. Then you will call on me and come and pray to me, and I will listen to you. You will seek me and find me when you seek me with all your heart." —Jeremiah 29:11–13 (NIV)
But we also rejoice in our sufferings, because we know that suffering produces perseverance; perseverance, character; and character, hope. —Romans 5:3–4 (NIV)
Consider it pure joy, my brothers, whenever you face trials of many kinds, because you know that the testing of your faith develops perseverance. Perseverance must finish its work so that you may be mature and complete, not lacking anything. —James 1:2–4 (NIV)