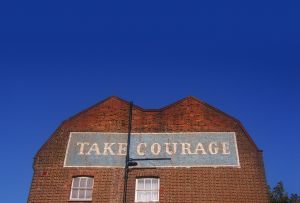 Deep within, we imagine ourselves as a mixture of Patrick Henry, Davy Crockett, John Wayne, and the prophet Daniel! But the truth of the matter is that most of us would do anything to keep from being different. We'd much rather blend into the woodwork. One of our greatest fears is being ostracized, rejected by "the group."
There are other fears—fear of being made to look foolish, fear of being talked about and misunderstood. Rather than rugged individualists, we are more like Gulliver of old, tied down and immobilized by tiny strands of fear, real or imagined. The result is both predictable and tragic: loss of courage.
It takes courage to think alone, to resist alone, to stand alone—especially when the crowd seems so safe, so right. Let me suggest four thoughts to help bolster your courage:
"I am responsible." I said that to myself so many times in the Marine Corps that I got sick of hearing myself say it! Today I still repeat those three words.
"I must not forget." We must not forget the Lord our God and what He has done for us.
"I am accountable." I am accountable to God whether I am in Asia, at the tip of South America, or at the North Pole.
"I get my standard and security from God." Not from my friend, not from my business, not even from within myself. Christ is my surety.
Remember. Just because "everybody's doing it" doesn't mean it's either safe or right. You keep flying high above the crowd. Up there it doesn't just seem safe and right, it is safe and right.
Taken from Charles R. Swindoll, The Strength of Character: 7 Essential Traits of a Remarkable Life (Nashville: J. Countryman, 2007), 20-21. Copyright © 2007 by Charles R. Swindoll, Inc. All rights reserved worldwide.