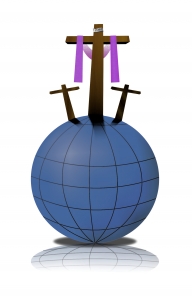 "God has the whole world in His hands." Remember the old gospel song? He's got the wind, the rain, the tiny little baby, yes, even you and me in His hands. How easy it is to forget that! And it isn't limited to our geography or our culture, you know. He's got the Middle East in His hands (that's a relief, isn't it?), not to mention North Korea and Iran, Cuba and India, Indonesia and Russia—all right there in the palms of His sovereign hands. And while we're at it, He's got our future, our children, our circumstances, our friends, and our foes in His hands . . . within His grasp . . . under His control. Even when imaginary fears slip in like the morning frost to blight our faith. He's there—in charge.
But there are times when we find it really hard to believe that our circumstance is truly in His hands. Not only are the wind and the rain and the tiny little baby in His hands, but so are life's minor interruptions as well as major calamities. In fact, would you believe they never leave His attention?
There will be times we will need the reminder of the wise prophet named Isaiah.
Behold, I have inscribed you on the palms of My hands;
Your walls are continually before Me. (Isaiah 49:16)
In other words, God sees us exactly as we are . . . warts and all, needs and all. He sees everything. And how close does He view it? It's in the palms of His hands.
God knows your ways . . . and He knows them continually. That includes your responses, your experiences, your reactions, what you call your calamities, your dead ends, your so-called impossible situations.
Not only does He have you and me, the wind and the rain, and the tiny little baby in His hands, He has yesterday's failures. He has today's challenges, He has tomorrow's surprises right there in His hands. And not one of them causes God to gasp. Not one causes Him to react with surprise, "Ah! I never knew that." Not one. He is unshockable, He is immutable. He's got the whole world in His hands. What's more, He has inscribed you and me on His palms. Things aren't out of control.
Taken from Charles R. Swindoll, Encouragement for Life: Words of Hope and Inspiration (Nashville: J. Countryman, 2006), 73-74. Copyright © 2006 by Charles R. Swindoll, Inc. All rights reserved worldwide.