It happened in the summer of 1979. Emerging from under my parent's bed, it grew quickly and landed on our kitchen table. Everything in life was about to change.
I was four weeks away from starting junior high. Throughout childhood, my dad was a faithful father and dedicated local pastor. Our lives were simple. Raising four kids on a pastor's income in Southern California meant we survived on a financial shoestring.
As a kid, I had no clue or care about money. There was always a way to have fun. We turned our empty living room into tents and forts, held matchbox car races, and played every nerf ball game without any worry of breaking something. My three siblings and I took walks, rode bikes, raised pets, and played games. Mom made our clothes and cooked all our meals. My brothers and sister and I were allowed one pair of new shoes a year.
Dinner was served on our rustic, unfinished kitchen picnic table where we laughed out loud, and something was always spilled. One of the few things that brought the Marine out in my dad was spilled milk . . . of all things.
Changes Happen
But I quickly learned you never know when, how, or what changes will occur in life. Change can happen in a moment or over time, but change touches every person on earth.
So are you wondering what the thing was that emerged from under my parents' bed and plopped on our kitchen table? A long, narrow, blue container stuffed with letters, notes, and cards.
And that summer, an army of people began arriving at our home through what seemed like a revolving door to help us deal with the blue box. An assembly line was set up, with each person assigned the job of opening, sorting, stuffing, stamping, and sending letters to people across the nation. I joined the line, licking envelopes until my tongue had paper cuts and stuck to the roof of my mouth. It was a fabulous day when someone showed up with sponge-capped water bottles for sealing envelopes!
The blue containers would fill up faster than they could be emptied. The pace of life got hectic, and before long my mother was working 60 and 70 hours a week trying to keep up with the ministry now called "Insight for Living."
My younger brother and I still rode bikes, took walks, played games, raised pets; but life was never the same. To be honest, the explosive ministry opportunities took a toll on my family. Publishing deadlines, speaking engagements, unrelenting church growth, and ministry ventures felt like an avalanche of sorts. Our family took many unexpected hits, experienced countless unanticipated opportunities, and watched my parents—two people from humble beginnings—be used by God as only God could have planned.
Think about this; 40 years ago:
China introduced the one-child policy.
A mob attacked and destroyed the US embassy in Islamabad, Pakistan.
The SALT II Treaty was signed between the Soviet Union and the United States.
Hundreds of Iranian radicals invaded the US embassy in Tehran, taking dozens of Americans hostage.
ESPN was launched.
Sony released the first Walkman at a pricy $200.
The 360-foot spire was placed atop One World Trade Center.
Personal computers, Amazon, Apple, Google, the Internet, cell phones, and a government department titled "Homeland Security" didn't exist.
While attending Insight for Living Ministries' new international headquarters building dedication a few weeks ago, I thought back to my childhood home and the blue mail bins stacked on our rickety, unfinished kitchen table, often giving us splinters if we weren't careful. Life was so simple . . . four kids, one car, a few pets, bikes, and quiet walks around the neighborhood. On that day of dedication, I realized God has plans for Insight for Living Ministries that are far beyond what we could have imagined 40 years ago.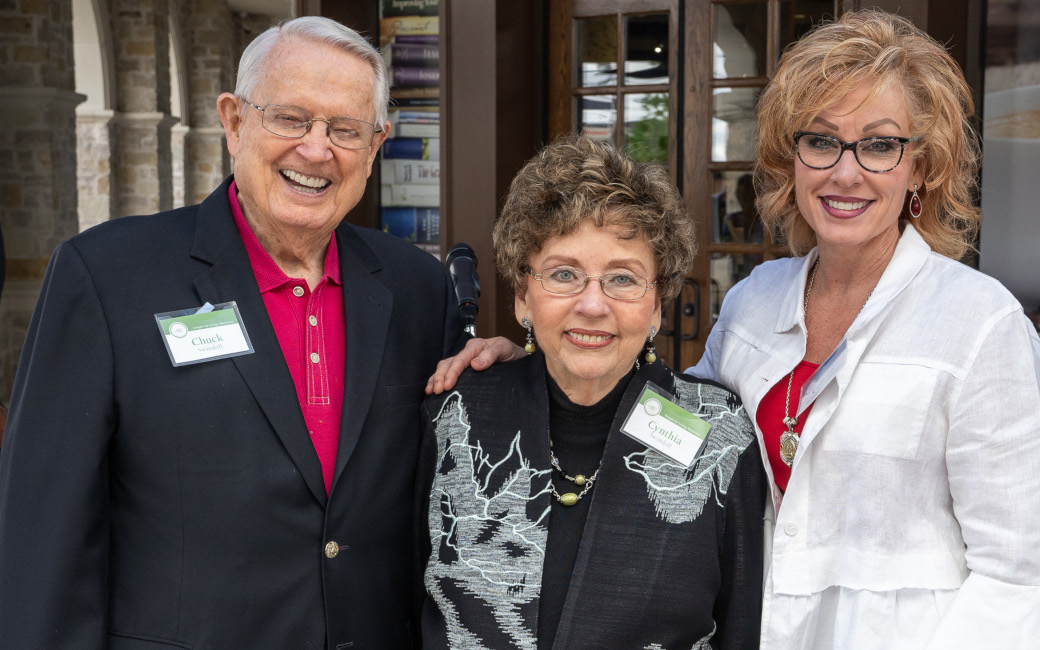 Unimaginable Surprises
The Christian life is full of surprises. Without question, you will be shocked by unforeseen challenges or life-changing experiences. Some things will be easy to accept while other events will be heartbreaking. Sometimes we see God's hand clearly; other times we wonder if there is a God due to the pain we endure.
Looking back over the years, the Lord has used Insight for Living Ministries to teach the Bible to countless people around the world. During these four decades, I've learned a few things about God and people. Here are a few:
God's goodness is not defined by how easy or hard our lives may be.
People will hurt you, but that does not give you the right to hurt them back.
Unjust things will happen; how we respond is key.
Growth and change are hard but necessary.
Regardless of the position you hold or how much money you have, look for ways to serve and help others. Pick up the trash, wash the dishes, clean up after yourself, and don't expect others to do that for you.
Never overlook someone who is hurting or different; you have no idea what he or she has been through.
Let Me Hear from You
I don't know what your life looks like today. I do know that God is not surprised by whatever you are going through. Have you chosen to trust Him with your situation? Are you hurting and want to seek revenge? How do you respond to those who are different? Where is God reframing your life, forcing you to examine your beliefs and trust Him for your future? Let's start a conversation about how you can respond to Him in the days and weeks ahead.
You can leave a comment by clicking here.
Want more? Subscribe to Reframing Ministries for content delivered right to your inbox full of help, hope, healing, and humor for people, just like you and me, walking through pain.