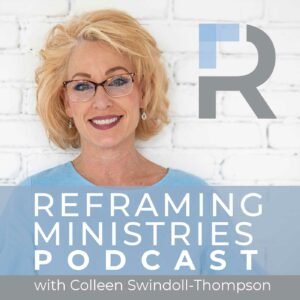 I was a girl who never thought I had a testimony . . . and I was about to be handed the worst testimony of my life.

—Blue Lagoon, Jamaica, September, 2001
Back-to-back tragedies during a vacation in Jamaica created a new path for Tammy to walk—one that required longevity in healing and finding long-term hope in Christ after personal and national disasters.
"Life will change, life will break, things will happen; it's not a matter of 'if' they will but a matter of 'when.' When they happen in our lives, who will be that one that brings us back to life again?"
Join us as Colleen talks with Tammy about her personal journey, the processes of healing after losing a partner, how to see and embrace God's long-term plans, and how to "Find support" and "Navigate the next steps" in the Reframing process.
Show Notes:
To encourage you and help you in your own stages of healing, grab a copy of Tammy's books, Learning to Breathe Again and Beyond the Sorrow!
To learn more about Tammy Trent, visit her website, look into her touring schedule, check out her music on Apple Music or Spotify, and connect with her on Instagram and Facebook!
Let Me Hear from You
You can leave a comment by clicking here.
Want more? Subscribe to automatically receive our latest podcast full of help, hope, healing, and humor from and for people walking through pain.