I have a thing for power tools and making stuff. Who knew? I've made a desk and table with my son, and wainscoted the kids' rooms . . . and most projects have gone, um, relatively well. Some have been total disasters, to be honest.
I tend to overlook the details and skip a few steps here and there. The directions say to do this or that, but I think . . .
Why does that need to go there when no one sees it anyway?
That's a little overkill on the hardware.
Oh, it'll hold, just get done.
Reasonable? Maybe.
Right? Not so much.
The problem is I forget past lessons in all the excitement of the present task. The past . . . what past? A new project just twinkles. However, what may seem reasonable or logical might not be right.
What Was I Thinking?
I had been to the gym, came home all sweaty and pumped, and thought it was a great time to make something for my new office.
I pulled out the power tools needed . . .
Hammer
Nail gun
Drill
Circular saw
Sander
I was on it. I collected the wood and stacked it all on our patio table. It's like most outdoor tables; sturdy metal legs topped with tough, tempered glass.
I measured, cut, sanded, and measured again, laying each piece of wood on the table, positioned for precise nailing. I didn't skip steps, and I added a few extra nails for reinforcement—feeling so proud of my growth in patience.
Nail guns are great. Mine's for finishing work, so the nails are thin but that sucker shoots them in with a "KER-POW!" punch; it's fantastic. About 20 nails into it, I pulled the release. "KER-POW!" Then the unexpected:
POP . . . CRACK . . . CRASH!
A smashing waterfall of tiny glass shards buried my feet and scattered across our whole patio.
After thinking a few words I'll not repeat and coming down from the shock of it all, I spent the next three hours sweeping, scouring, and finally vacuuming MY PATIO. (For the love of it all, who vacuums their patio?)
My husband looked at the piece that evening. Flipping it over, he asked if I happened to be using the nail gun on the table.
"Well, YES!" I answered, but before I could continue, he patiently placed my hand on the backside and—what do you know—the nails were a tad bit longer than the wood backing.
Yes, I had considered checking that earlier, but by the "look" of things, it wasn't a problem. So much for my "thoughts."
Timeless Reminders
What seems reasonable . . . even logical . . . may not be right.
The Christian faith is a lifelong developmental process. Those who know and believe in Christ as their Lord and Savior continue to have free will; sometimes we choose to follow Christ and surrender our lives to His care.
Other times, we make our lives a do-it-yourself project with Christ as an occasional guest consultant.
It's amazing how we can believe in Jesus, yet behave as if He were our servant, not our king. I know I did for many years. Maybe that's where you are today.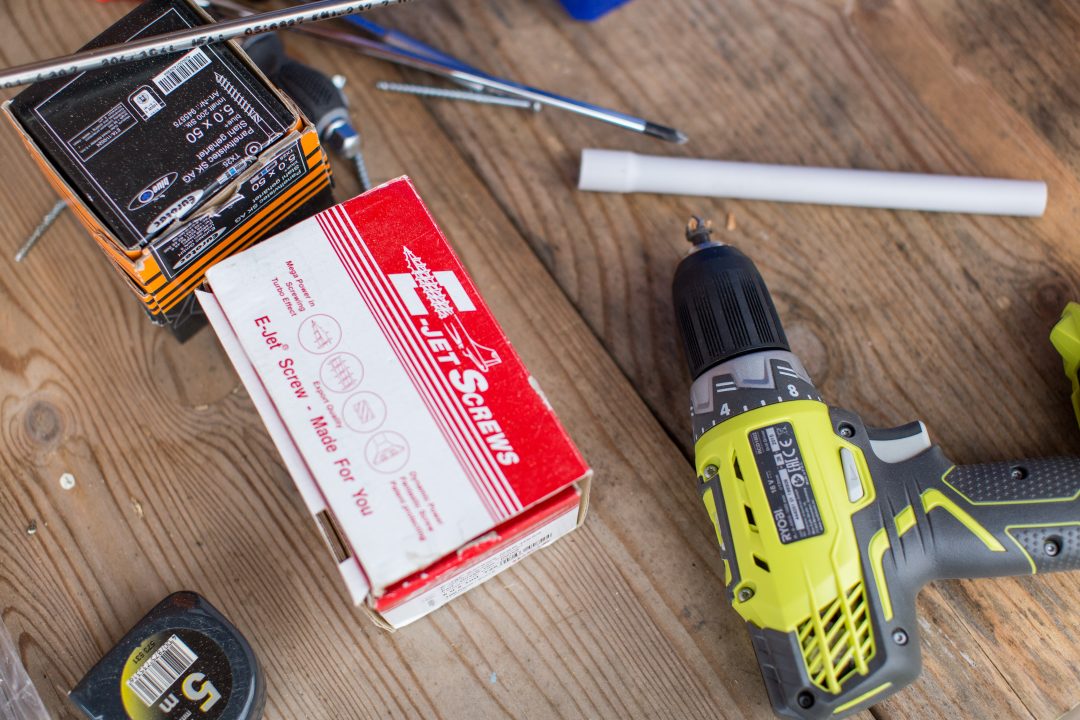 So how do we carve out spiritual growth, maturity, and wisdom in our lives? We pull out our power tools.
1. Plug into the Power Supply
No electric power tool works without being plugged in. It's the same with our spiritual life; without the Holy Spirit, we are powerless. What gasoline is to a car, the Holy Spirit is to our Christian life.
If Christians remained plugged in, many . . .
Conflicts
Offenses
Worries
Sleepless nights
Consuming sorrows
Would be thwarted. It is the Spirit in us that offers each believer this kind of power.
Perhaps it's time to give up your DIY project and allow the Holy Spirit to INVADE . . . I mean TAKE OVER . . . what you cannot face or endure alone.
Two: Plan to be Broken
Every board I cut and sanded was once a tree—cut, sanded, then cut again into the size and shape needed for building something new. A piece of lumber used to construct something has to be cut in some way.
Similarly, Jesus, the great carpenter, has a blueprint in mind for each of us. He slices, sands, and whittles our lives in order to remove what isn't needed for the job He has for you and for me.
We must plan to be . . .
Broken
Sanded down
Smoothed
Shaped into the needed piece; perfectly fashioned for the work Christ will do in and through us.
Three: Prepare for Battle
I almost fell on the floor when I read online a statistic claiming that a majority of American Christians do not believe in the Devil.
How can that be when Scripture clearly identifies the Devil throughout its pages? You know the fastest way to lose a war? Believe there is no enemy. First Peter 5:8 (among many other references) says:
Be sober-minded; be watchful. Your adversary the devil prowls around like a roaring lion, seeking someone to devour.
To devour means to:
Bring to utter ruin
Destroy
Thoroughly demolish
Wipe out
Consume
We have a real enemy: Satan. Nothing delights him more than when we have tepid faith, twisted theology, unresolved trauma, or a torpid stance about his desire to consume and devour our life.
Plan for battle by equipping yourself with the right and best tools. Study Ephesians 6:10–18 for daily direction.
Four: Place God in His Honored Position
The center of your life. Scripture repeatedly tells you to love the Lord your God with all your . . .
Not much wobble room there. He must be on the throne of your heart, in the center of your mind, and the seat of your passions.
Let Me Hear from You
Sometimes we need a big crash to wake us up. Shattering in our lives can offer the greatest gift by making us aware that we were using all the wrong tools.
Maybe you have pushed God to the side. Maybe you haven't plugged into the Holy Spirit's power. Maybe you're resisting God's plan because it includes breaking you or preparing you to battle the real Enemy. May our shattered plans remind us that the Christian life isn't a DIY project. There is no rest like the rest we have in Jesus because He holds the blueprint and helps us use the tools correctly.
Of the four listed, which is the hardest for you? I can't wait to connect with you this week.
You can leave a comment by clicking here.